I'm feeling nostalgic.
I'm not sure if you watched The Vampire Diaries but I can assure you that regardless of that, you'll still be utterly enamored with the man in this post.🤓
I was heartbroken when the series ended a few months ago. I mean, we're talking ugly-cried during the finale and had serious withdrawals for a few weeks.
Don't judge me. 😌
I'd like to think my heartbreak was justified as the series was very well written. We're not necessarily talking Oscar-worthy or life-changing, but it was written and produced by one of my favorite screenwriters: Kevin Williamson.
Yes! The same Kevin Williamson who wrote the Scream movies and had a hand in many of my other favorite teen-screams from the 90s.
I was urged to watch TVD midway through the series solely so that I could join the urger in regular viewing and discussion once caught up. I reluctantly gave it a chance, a big selling point being my faith in K-Wills writing.
Holy shit balls did I get hooked.
I wouldn't say obsessed but I definitely hung on every single episode. This was intensified when he was introduced… yes, Damon Salvatore. ❤️
Sure, sure, I know you're sitting there thinking "This bitch is crazy- what's the big deal? Looks like a douche to me 😒", in which case my response is yes, you're 95% correct with that statement as I damn well may be a crazy bitch and Damon is definitely a douche.
Definitely….
A douche…
Definitely.
Don't get me wrong! I thought he was useless for a good little while, but even I succumbed to his charms…
So, let's note right now that our oldest Salvatore bro was a pretty huge jerk most of the series, but after a while, in a weird way, it started to grow on me.
That snark and blasé attitude was everything. I can directly relate in that sense… I also appreciated his ability to down 5 gallons of Bourbon per episode without anyone really saying anything about it.
He's by far the sexiest high-functioning alcoholic vampire in all of tv land. That would make for an interesting episode of Intervention, no? 😀
After being reminded of Ian Smolder-holder's ability to portray Damon in the most perfect manner this week by a colleague of mine, I felt compelled (get it?! No? TVD joke…🤓) to put this post into the universe in hopes that it spawns a parallel world in which Damon is a real-life, corporeal heartthrob, taking names and ruining lives one small town at a time! 😍
Without further ado, here's my list of lovable quirks that made Damon Damon.
Let's begin, yes?
His wonderful communication skills.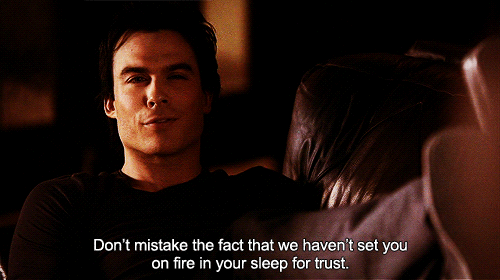 He knows a thing or two about love. ❤️
He knows his brother extremely well.
Also, very much a family man.
He'll always save you a seat.
He's an adamant bookworm… 📚
And is up-to-date with all the new releases.
He takes care of himself…
For the most part.
An excellent friend..
Always willing to do you a favor.
He knows just what to do to make you laugh.
He'll always keep your heart close. 😍
Now, if you've been sold just a little, I'll urge you now to hop on Netflix and binge the series at your own risk. Here, "At your own risk" means that you may or may not fall in love with the show and ugly-cry when it's all said and done. 😭
I'll be here for support, Love.
Regardless, here's to you Damon- and every smile, tear, laugh, scoff and gawk you've provided me through those amazing seven seasons. Shout out to all the fantasies and blue-eyed/leather-jacket clad dream visits i've received since first meeting you. 😏
Now, I want to know: Did you watch The Vampire Diaries? If so, who were your favorite characters and why? If not, are you interested now? Or have I simply piqued your Smolderholder appetite? In which case… yes, girl, yes.  
I leave you with a little sight for your sore eyes. 😏
Until next time! 🙂
🎃💜🎃
-Sarah